Are you working in the cocoa, maize, or livestock (cattle, sheep, goats) sectors in a member state of the Organisation of African, Caribbean, and Pacific states? Are you from the private sector, with a high interest in resilience, competitiveness, or direct supply linkages with off-takers for sustainability?
Do you have an innovative idea that makes the above-mentioned value chains less fragmented, more inclusive, particularly for women and youth, sustainable, and profitable? This also includes innovations for by-products of the sectors.
Then this is a unique opportunity for you to realize your goal!
Matching Grant Fund (MGF)
By applying for this MGF, you can obtain funding to realize your project idea in the named value chains!
For all MGF projects, the maximal contribution channeled via ABF will account for up to 50% of the total project budget. This contribution can go up to 200.000 €.
The following video explains the most important things about our MGF:
Matching Grant Fund
Competitive "Matching Grant Fund" (MGF) mechanism
1. Readiness Programme & Call for Concept Notes (Pre-qualification)
Online-based introduction and support during the application stage starting with the call for concept notes on 18th September 2023. The call lasts for 9 weeks.
2. Final submission of Call for Concept Notes
The deadline for submission of your concept note is 10th November.
3. Assessment of Concept Notes
Once received, an independent and international expert committee will assess and evaluate all concept notes.


4. Full proposal development & in-depth Readiness Programme
Shortlisted applicants will be invited to develop a full technical proposal and budget. This will be closely supported by the ABF team.
5. Proposal evaluation and decision
The final proposals will be evaluated and a decision on who is granted the funds will be taken.
6. Contracting
Contracts will be prepared by GIZ using tried-and-tested partnership agreement formats.
7. Implementation
Now the implementation of your project can start. This entails reporting to ABF as well as supervision and support from ABF.
As lead applicants:
Processing company
Agricultural producer/Farmer's organization
National or international retailer companies
As consortium partners:
Private sector foundations
(Micro) Financial institutions
Qualified NGOs
Training or research institutions or extension agencies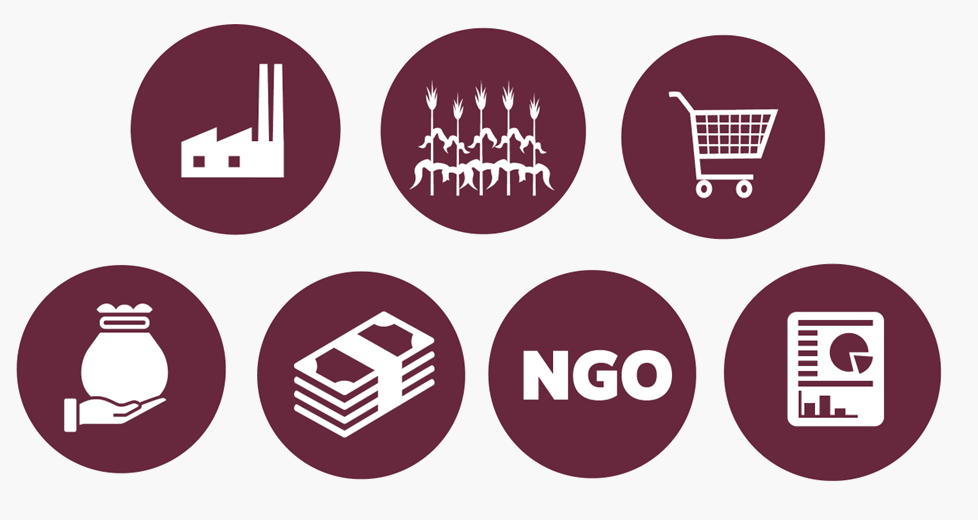 Documents to fill and send back via abf-fund@giz.de between 18th September 2023 and 10th November 2023, 11:59 pm GMT:
Template for concept note (Annex 1)
Letter of Intent (Annex 2)
Working aid: Contribution Excel sheet (Annex 4 - please use Annex 3 as a guideline on how to fill it)
Please find the application documents below in our download section.
If you have any questions, please read our FAQ below the download section or feel free to send us your unanswered questions.
18 September 2023: Official launch: Matching Grant Fund for Climate-Resilient Value Chains
19 September 2023: Application process & consortia
20 September 2023: Capacity Development
4 October 2023: Contract formats & Finances
18 October 2023: Application process & consortia
Application: documents to fill for application
Informational purposes: Readiness programme documents
What is the ABF MGF about?
The overall objective of the Matching Grant Fund is to leverage contributions from partners for the implementation of specific interventions towards the development of the cocoa, maize, and livestock (cattle, sheep, and goats) value chains and build ownership to drive sustainable growth in the respective sectors, strengthen private sector development, and improve the productivity and profitability of stakeholders in all 79 OACPS member states for cocoa, maize, cattle, sheep, and goats VCs.
Can the minimum 50% contribution of the applicant also be in kind? And would technology or innovation also be considered as contribution?
Yes, that is possible. The contribution can be in cash, kind, innovation, or equipment.
Ghana, Côte d'Ivoire, and Cameroon are not covered in the cocoa value chain, can these countries still apply for other value chains?
Yes. Ghana, Cameroon and Côte d'Ivoire are eligible for the fund, but not for the cocoa value chain. The cocoa value chain is already covered by the Sustainable Cocoa Initiative in Ghana, Cameroon and Côte d'Ivoire. Projects concerning the maize and livestock value chains may be proposed.
Entities from these countries can however also support farmers in the cocoa value chain in other countries.
Can the concept note be sent in Spanish or Portuguese?
Yes, the concept note can be developed in Spanish or Portuguese. The Expert Committee will work in English and French, there are two options for Spanish and Portuguese speakers:
Have your concept note professionally translated and note it in your budget. This will be reimbursed by GIZ if your concept note/project is selected

Or develop the application in Spanish and Portuguese and then use internet translators for a translation to English (with specification that you did so)

Or sent the application in Spanish and Portuguese. We will then translate it to English using internet translators
Is an application for the Cashew value chain also eligible?
Cashew already had their call in June, but they will have a second call and you will be informed on it.
Is EUR 200k the maximum amount a partner can receive?
Yes, it is the maximum, but the project can be bigger by having a bigger contribution from the private sector. The amount received is up to 50% of the total project budget.
In the livestock value chain, which part of the value chain is considered – processing, production? Is milk also included?
All segments of the cattle, sheep and goat value chains are considered. Milk is also included here.
Where can I find the presentation from the launch events and the webinars?
You can find the presentations in the download section right above this FAQ section.
Is it possible to have a one-on-one session during the application process?
This is not possible, but we have many detailed guidelines which you can download from this website. Otherwise, you can always ask a question via mail. However, this question will be posted on our website here in this FAQ section in an anonymized way. Pre-selected concept notes can receive face-to-face support on demand for the development of full proposals.
Is it possible to send clarifications questions during the application procedure?
Yes, it will be to abf-fund@giz.de - responses will be posted anonymously to FAQ.
Is there a minimum money amount for projects accepted?
No, there is no defined minimum, but projects are evaluated on their ability to produce a significant impact.
What will be the project duration? How many months has the project for execution?
Do I understand correctly that you can incorporate the atingi trainings in your concept notes?
Yes.
For offline use in the field, you can also integrate the "atingi-box" into your concept note.
Can an organization submit more than one project?
Yes, if the organization is involved in more than one of the targeted value chains.
Should the concepts focus on one value chain, or can they be combined e.g. maize together with livestock?
A combination of value chains is possible and very welcome.
An organization for which the core business is not one of the value chains, but they support farmers from these value chains, can they still apply?
Farmers organization in the target value chains can take the lead for application and be supported by a company in a consortium. The company as consortium partner should contribute in cash and/or kind.
Is there restrictions for companies in terms of years of existence? What about start-ups and small companies?
There is no restriction, however applicants should be able to provide at least records of 2 years tax payments or if it's a startup with tax exemption. The latter must be proven.
As a start-up or a very small institution, you can show us a sound financial system, but before that you need to inform us. You can also form a consortium with a bigger company.
¿Cuándo y cómo presentar la solicitud?
Documentos a rellenar y enviar a través de abf-fund@giz.de entre el 18 de septiembre de 2023 y el 10 de noviembre de 2023, a las 23:59 GMT:
Lea la directiva para conocer los criterios de admisibilidad y obtener más información.
This website was created and maintained with the financial support of the European Union. Its contents are the sole responsibility of ABF / GIZ and do not necessarily reflect the views of the European Union.
The Joint Action is jointly co-financed by the European Union under the Cotonou agreement with OACPS and by the German Federal Ministry for Economic Cooperation and Development (BMZ) and implemented by GIZ.